Blüdhaven



Province

Planet

Timeframe

21st century

First Appearance
"Blüdhaven may look filthy, but at least I've cleaned the criminal scum off the streets."
Blüdhaven was the economically troubled sister city of Gotham City laying about twenty miles south of the home of the dark knight and it lay about forty miles north of Steel City. Blüdhaven was home to the hero Robin, now Nightwing and plagued by corruption, gangs, and much of the city was empty. It was known to be home to at least one S.T.A.R. Labs facility.
Much of the city is shown to be in broken shambles. Scarred with litter, vandalism and pollution.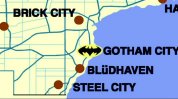 Appearances
Edit
Ad blocker interference detected!
Wikia is a free-to-use site that makes money from advertising. We have a modified experience for viewers using ad blockers

Wikia is not accessible if you've made further modifications. Remove the custom ad blocker rule(s) and the page will load as expected.