Beast Boy



Real Name

Garfield Logan

Homeworld

Species

Affiliation(s)

Abilities and Powers

Animal Shape-Shifting

First Appearance

Voiced By

n/a
Beast Boy aka Garfield Logan is a Doom Patrol member, with the powers to transform into any animal (with an additional green color). He made a small appearance on a poster at the circus Negative Man worked at in The Last Patrol!.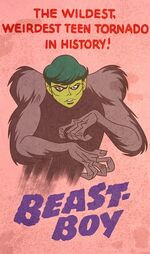 Appearances
Edit
Ad blocker interference detected!
Wikia is a free-to-use site that makes money from advertising. We have a modified experience for viewers using ad blockers

Wikia is not accessible if you've made further modifications. Remove the custom ad blocker rule(s) and the page will load as expected.