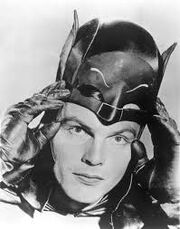 Adam West
(born September 19, 1928) portrayed
Batman
in the 1960s
Batman television series
, voiced
Simon Trent/The Gray Ghost
in
Batman: The Animated Series
,
Marion Grange
in
The Batman
, and
Thomas Wayne
in the
Batman: The Brave and the Bold
episode
Chill of the Night!
and
Proto Bat-Bot
in
Plague of the Prototypes!
West's 1960's portrayal of Batman is iconic, and his approach and the approach of the Batman show of that period is cited as a major influence on this series' version of Batman, making him an easy choice to voice Batman's father, since he is the 'father' of Batman's career on television. West has at times resented the lack of work his easy recognition as Batman has brought him, but never the character himself, voicing Batman twice in animated form in 1977's The New Adventures of Batman (featuring the first animated appearances of Bat-Mite) and in the final two seasons of The Super Friends series, called Super Powers ironically replacing and yet co-starring with longtime Batman voice actor Olan Soule, who played Batman from the time of the 1960's Filmation cartoons onward, including the 70's teaming with Scooby-Doo.
External links
Edit
Ad blocker interference detected!
Wikia is a free-to-use site that makes money from advertising. We have a modified experience for viewers using ad blockers

Wikia is not accessible if you've made further modifications. Remove the custom ad blocker rule(s) and the page will load as expected.